Outlook PST Split - Some Statistics about Outlook Usage!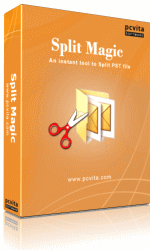 Extensive use of Outlook email application with hundreds of incoming and outgoing emails on a regular basis tends to increase PST file size greatly, which adversely affects the speed of the application to a great extent. PCVITA Split Magic software is a useful Outlook PST split tool that helps you to split Outlook PST file of large size into smaller parts, which in turn causes to increase the speed of the application.
How to Split Outlook PST File? You can split Outlook file with the help of PCVITA Split Magic software, which is a third-party Outlook PST splitter. Using this Outlook PST split software is not at all difficult owing to its extremely user-friendly interface. Investing a little in the Full version of thsi Outlook PST split software will help you get a faster Outlook application.
FREE Demo Version is Downloadable - Go for a Cost Effective Full Version Purchase
If you get to use the tool and evaluate its efficiency much before you pay for it, isn't it a great facility. We provide you the trial version of this Outlook PST split tool, which is FREE! Using this functional but restricted demo version, you can split 50 emails per Outlook PST file. Go for this cost-effective purchase to split Outlook PST. You can split ALL PST items using this full version available at $49 only.
Statistics:
90% of users make use of some or the other email management tool (online or system specific) for their messaging needs.
2 in every 4 users make use of Microsoft Outlook email application for their email management needs.
60% of Outlook users face issues with the speed of the application after prolonged usage.
Out of the above user count, only 20% know about the Outlook PST split process and its advantage in improving Outlook speed
Noteworthy Software Features:
Split Outlook PST file by date, by year, and by size
Split Outlook archive file, distribution list etc
Split Outlook mailbox items like emails, journals, to-do lists etc
Split Outlook contacts, calendars & emails folders like Inbox, Outbox etc
Split Outlook PST files and get Metadata (to, cc, bcc, etc) retained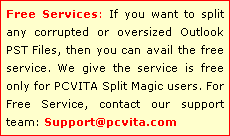 Other Recommended Tools:

PST Magic™
Simple solution to combine multiple Outlook PST files into single PST file. Read More- PST Merge Tool
vCard Magic™
Solution to migrate Outlook to vCard contacts & vCard to Outlook. Read More - VCF Converter Tool

Archive Magic™
Makr backup of old Mail in Outlook and Keep in the PST File format. Read More - PST Archive Tool

Outlook Magic™
Outlook magic is advacne multiple converter software .Read More - PST Converter Tool

NAB Converter™
Duple functionalities to convert NAB to PST & NAB to VCF. Read more: NAB to PST Converter